Sweet Potato and Turkey Sausage Kale Casserole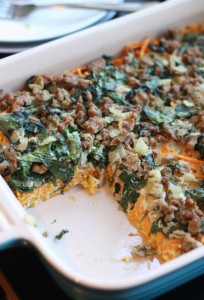 Serving Size: 1/6 recipe (~4 inch by 4 inch square)
Yields: 6
First Line Therapy Servings: (1.5 protein, 1 category 1 vegetable, ½ category 2 vegetable, 1 fat)
Nutrition Breakdown: 256 calories, 10 grams carbohydrates, 10 grams fat, 32 grams protein
Recipe Reposted and Modified From cookbook Naturally Nourished: Food-as-Medicine for Optimal Health written by Ali Miller, RD, LD, CDE
Ingredients:
1 ½ Tbsp coconut oil
1 yellow onion, chopped
1 sweet potato, cut into ½" cubes (~1.5 cups)
1 Tbsp chili powder
½ tsp sea salt
16 ounces ground turkey (95% lean or leaner)
6 whole eggs
10 egg whites
1 cup milk (I use unsweetened almond or coconut milk)
1 Tbsp sage, chopped
1 bunch curly kale, torn into 1" pieces
Directions:
Preheat oven to 350 degrees F.
Heat cast-iron skillet and melt coconut oil.
Saute onion and sweet potato cubes, sprinkle with chili powder and sea salt, saute for 8-10 minutes until softened.
Once sweet potatoes and onion are soft, add ground turkey and heat until cooked through, about 6-8 minutes.
While the meat is browning, whisk eggs with milk and fresh chopped sage, set aside.
Once cooked through (not pink) add curly kale and stir until coated in juices and beginning to soften, about 1-2 minutes.
Remove from heat and spread veggie and turkey mixture into 12×9" casserole pan.
Once distributed throughout, pour in egg mixture and press down to ensure all veggies are covered.
Bake in oven covered for first 20 minutes, then uncover and bake for an additional 10-15 minutes, until eggs are cooked through and casserole is set in the center.
Remove from oven and let cool about 8-10 minutes prior to cutting into 6 pieces.