One Pan Roasted Chicken and Vegetables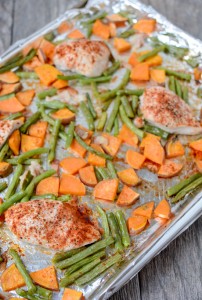 Serving Size: 4 ounces of chicken with ¼ vegetables
Yields: 4 servings
First Line Therapy Servings: 1 protein, 1 category 1 vegetable, 1 fat
Recipe Reposted and Modified From: http://www.theleangreenbean.com
Ingredients:
1 pound boneless skinless chicken breast
2 cloves garlic, minced
3-4 cups mixed vegetables, chopped
Oil for drizzling
Spices of choice (cayenne pepper, paprika, garlic powder, curry powder, black pepper, etc)
Directions:
Line a large jelly roll pan (baking sheet with edges) with foil.
Add veggies, garlic and bacon to the pan. Drizzle with oil and stir to coat. Add your favorite seasonings.
Add chicken to the pan. Season as desired.
Bake at 400 degrees for 20-25 minutes or until chicken is cooked through, stirring vegetables occasionally.
Noted: Elimination Diet Approved
Noted: Healthy Transformation Approved