Lemon Herb Salmon Patties with Ranch Dressing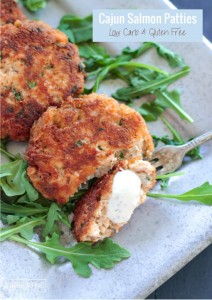 Lemon Herb Salmon Patties
Serving Size: ¼ recipe (1 patty)
Yields: 4 servings
First Line Therapy Servings: 4 ounces protein, 4 nut/seed servings (~160 calories worth), ½ fat
Recipe Reposted and Modified From: https://audreysapron.wordpress.com
Ingredients:
1lb raw salmon, skin removed
1 egg + 1 egg white, lightly beaten
1 cup almond flour (I used Bob's Red Mill)
1/4 cup chopped fresh parsley
1/4 cup chopped fresh basil
1/4 red or yellow onion, finely diced (as tiny as possible!)
2 cloves of garlic, minced
1/4 tsp dried marjoram
1/4 tsp onion powder
juice of 1 lemon (If you only use 1/2, the lemon flavor doesn't shine through)
salt and pepper
1 tsp olive oil
Directions:
1). In the bowl of a food processor, add the raw salmon and pulse until it's evenly ground and starting to be sticky.
2). Combine all the remaining ingredients in a bowl and add the salmon. Mix to combine. Lightly score the mixture into 4 sections. Form the 4 pieces into burger patties.
3). Add a little bit of olive oil to the bottom of a large skillet over medium-high heat. Once the oil is hot, add the salmon patties and cook for about 4 minutes per side. Remove when they're cooked through and no longer pink. Enjoy!
For the homemade ranch-style sauce:
Serving Size: 1 tablespoon
Yields: 20 servings
First Line Therapy Servings: 2 fat
Recipe Reposted and Modified From: https://audreysapron.wordpress.com
 Ingredients:
1 egg
1 cup extra light (must be extra light!) olive oil
1 tablespoon lemon juice
1/2 tbsp apple cider vinegar
1/4 tsp salt
1/2 tsp dried dill
1 tsp onion powder
1/2 tsp dried parsley
1/4 tsp garlic powder
1/2 tsp lime juice (optional)
1 jalapeno, seeded and minced (optional)
Salt and pepper, to taste.
Immersion blender
Directions:
1). Important: You will need an immersion blender to do this. Place the egg, olive oil, lemon juice, vinegar, and salt into a mason jar or container with tall sides. Put the immersion blender in the container so it's resting at the very bottom, then turn it on. Let it blend like this for several seconds, then slowly and gently move it up so it blends all of the mixture. This should take less than a minute.
2). Once it's blended through, add the remaining ingredients and stir together. Cover and refrigerate for up to 2 weeks! If you want to make it into a thinner dressing, add a tiny bit of water at a time and stir until you get the consistency you want.
Noted: Serve over a bed of lettuce to make a salad or with a side of steamed vegetables! You can even use lettuce for a bun and make a breadless sandwich!