Chicken with Summer Vegetables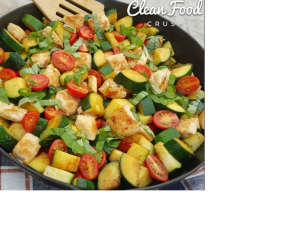 Serving Size: ¼ recipe
Yields: 4 servings
First Line Therapy Servings: 4 ounces protein, 1.5 servings fat, 2 non-starchy vegetable servings
Recipe Reposted and Modified From: http://www.myrecipes.com
Ingredients:
4 boneless, skinless chicken breast halves, 4 oz. each
Salt and pepper
2 tablespoons grapeseed oil
1/2 cup low-sodium chicken broth
1 medium zucchini, cut into 1/2-inch pieces
1 yellow squash, cut into 1/2-inch pieces
16 cherry tomatoes, halved
1 teaspoon chopped fresh thyme
Directions:
1. Place chicken breasts between 2 pieces of waxed paper and pound to an even 1/2-inch thickness with a meat mallet (or use a rolling pin). Trim any excess fat or ragged edges. Season both sides with salt and pepper.
2. Heat oil in a large skillet over medium-high heat. Cook chicken until browned and cooked through but still slightly springy to the touch, 3 to 4 minutes on each side. Transfer to a plate and cover loosely with foil.
3. Keep leftover fat in skillet (oil/fat). Add broth, increase heat to high and boil, stirring to pick up any browned bits on bottom of skillet, until slightly reduced, about 2 minutes. Add zucchini and squash; sprinkle with salt and pepper. Cook, stirring often, until softened, about 3 minutes. Stir in tomatoes and thyme. Cook just until tomatoes are warmed through, about 2 minutes. Season with additional salt and pepper, if desired.
4. Using a sharp knife, cut chicken into thick slices on a diagonal. Serve warm with a spoonful of vegetables on the side.