Timeline
What is a timeline and how do you use it?
A timeline is a tool often used in functional medicine to help practitioners get a better idea of what the root causes of your symptoms may be. Our bodies are complex connections of systems and organs and emotional, physical, and spiritual strains impact our health in a variety of ways. Many symptoms and diseases have several potential causes. A timeline requires effort and a time commitment from our patients but it gives key clinical insight and helps us identify potential mechanisms of disease faster so that we can target our approach to your particular mechanism of disease so that you get to feeling better faster.
How do I complete my timeline?
There are three important things we're looking for in your timeline. First, we're going to ask you to list significant life events. If you're thinking about your life so far and it jumps out as important we want you to write it down, even if you don't feel that it's connected. Marriages, loss of loved ones and pets, going to college, moving (if it was important to you), traumatic events, periods of high emotional/physical/or spiritual strain and more. These events go above the pictured timeline. It's helpful if these events are sorted by age when they began. If a time period extends for several years, make a note of that (e.g. caregiving for a sick parent may last 5-10 years, times of intense financial strain, high-stress jobs, etc.). Next, we want you to list your symptoms and overall health. When did these first appear in your life? If you've had joint pain since high school, write that down. If you have seasonal allergies do you remember when they started? Thinking through these prepares you for our new patient appointment and makes our time together more efficient so that you're getting maximum care during your appointment time. These symptoms and diagnosis (e.g. Diagnosed with high blood pressure- age 28) belong below the timeline. For some of our healthier patients these symptoms may be less severe (e.g. occasional diarrhea starts, athletic performance decreased, sexual dysfunction began, etc.).
Is formatting important?
Not really! It is important that your answers are readable. Some patients prefer to put their information directly on the timeline itself. Others like to format an email or a word document and email it to us. Either way is great. We personally found it helpful to list out life events then sort them by age when they started and write it out in a format like this before adding it to the timeline:
Age 8- Moved Houses and began living with grandmother- EVENT
Age 10-18- Severe seasonal allergies – SYMPTOM
Age 19- moved to college- EVENT
Age 20- Gained 15 pounds freshman year of college- SYMPTOM
Age 23- Car accident- EVENT
Age 25- Blood pressure increases- SYMPTOM
Age 30- Begin blood pressure medication- EVENT
Age 29- Began high stress job- EVENT
We've attached a Timeline document to this document. If you would like to use the worksheet format please feel free to make as many copies as you need. Click here to download a timeline template.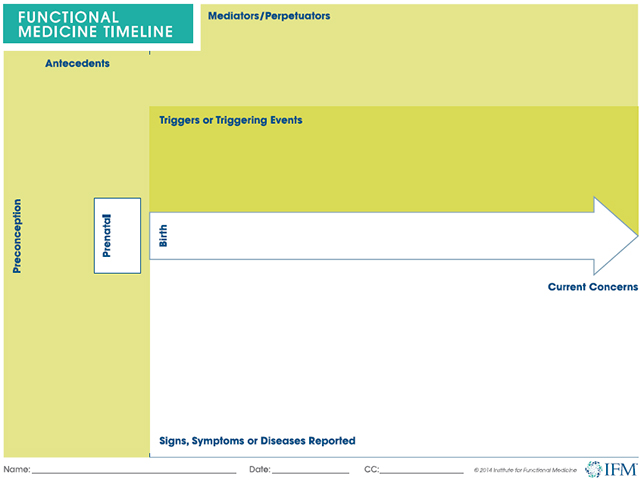 You will need the Adobe Reader to view and print these documents.