Our Registered Dietitian
Stacey Chmiel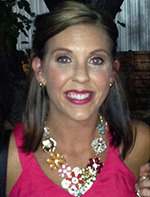 Stacey Chmiel
Stacey Chmiel is a registered dietitian licensed in Texas. Stacey began her journey into the field of nutrition during her freshman year of college at Millikin University in Illinois. Stacey began college as an Exercise Science & Sports major and when you meet her you'll soon learn that exercise is a passion of hers. While studying at Millikin as a Presidential Scholar, and playing on multiple sports teams, Stacey began taking a nutrition course and learned that training was only one component in the body performing optimally; no amount of training can make up for not fueling the body properly. But Stacey's interest in nutrition isn't entirely academic. Stacey was exposed to dietetics counseling when she developed an eating disorder at a young age. Throughout her life dietitians have been an integral part of her recovery process. Through recovery and learning how to view and implement healthy lifestyle choices, her passion for nutrition has grown. Stacey has a passion of helping others through their struggles and relationship with food, exercise, and other healthy habits.
In 2009 Stacey transferred to Texas Woman's University in Denton with the new goal of becoming a registered dietitian. Stacey finished her Bachelor of Science degree in Nutrition in 2012. Shortly after finishing her undergraduate degree she began the Texas Woman's University Dietetic Internship which helped her obtain her national RD/LD credentials in the spring of 2014. In the spring of 2015 Stacey graduated with her Masters of Science degree in Nutrition from Texas Woman's.
Stacey began her career as a dietitian working in acute care at the Medical Center of Plano, covering a variety of areas including neonatal intensive care, neuroscience intensive care, critical care, oncology, gastrointestinal, cardiovascular, and inpatient rehabilitation center. After working with chronically ill patients Stacey began to think, "If someone would have intervened sooner and helped them implement healthy changes, we could have prevented this hospital visit." Stacey has seen first hand the quality of life when patients are on multiple prescriptions and in-and-out of the hospital several times per year and she has seen the progression of chronic disease in her patients over time. Stacey's experience in the hospital and the frustration she feels at lack of patient education to prevent and reverse disease using lifestyle intervention and proper supplementation is perfectly aligned with our goals at Healthy Living Dallas. With her wide variety of clinical experience combined with her knowledge and passion for nutrition and lifestyle medicine we knew Stacey would make a wonderful addition to our practice and would be a blessing to our patients.
Here's Stacey's philosophy:
Observing optimal health is more than just the absence of disease, it's a combination of treating mind, spirit, and body. Achieving optimal health should be done on an individualized basis and engage the patient, practitioner, and dietitian. Achieving optimal health should focus on prevention through nutrition, exercise, use of the most current laboratory testing and other techniques such as genetic testing, nutraceuticals, therapeutic diets, detoxification programs, adequate sleep, and stress-management techniques.
That sounds a lot like what Thomas Edison said, "The doctor of the future will no longer treat the human frame with drugs, but rather will cure and prevent disease with nutrition." If you're ready to start changing your health at the root level- your emotions and perceptions of health that create your daily choices- come on in and meet Stacey.
Stacey currently lives in Plano, TX with her two adorable cats, Bonnie & Bandit, so if you see cat pictures popping up in our Facebook feed, now you know why! Stacey has the biggest heart for animals that we've ever seen (don't worry, that includes dogs too). She is a bit of a food and wine connoisseur and if you're ever looking for some healthy, seasonal, delicious food inspiration just check out Stacey's lunch. Friends, her family, and her church are at the very core of who Stacey is and play a big role in her life. Stacey is an avid football fan (Go Bears!), could eat peanut butter on anything and everything, and has been a faithful watcher of Grey's Anatomy since season one.
Fun Fact about Stacey: When she was younger, Stacey had a pet bobcat named Phantom.
Welcome Stacey Chmiel, our New Registered Dietitian!