Mediterranean Diet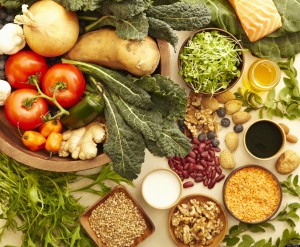 May is the National Mediterranean Diet Month! However, just because May is the National Mediterranean Diet month does not mean we shouldn't focus on eating this way year-round.
Here at Healthy Living Dallas we encourage a modified Mediterranean Diet. What does this mean? A modified Mediterranean diet has the same  phytonutrient -rich vegetables and fruits, but with reduced meat portions/servings focusing on mostly organic meats and dairy, limited amounts of red wine, and fewer starches (sugars) than typically found in a traditional Mediterranean diet.1 We also focus on lowering one's intake of processed foods and  refined sugar.
People in the Mediterranean region with healthy lifestyle habits who eat a diet rich in fruits, vegetables, whole grains, healthy fats, and fish are thought to be amongst the healthiest people in the world.1 Possible health benefits of following a modified Mediterranean type eating pattern include lowering inflammation, lowering cholesterol, weight loss, better glycemic control, reduction in certain types of cancer, and improvement in cognitive function. Observational cohort studies and a secondary prevention trial have shown an inverse association between adherence to the Mediterranean diet and cardiovascular risk.2
Here are some tips to try at home that are Mediterranean Diet approved:
Replace butter with healthy fats such as olive oil for salads and grapeseed oil for cooking
Eat red meat sparingly or limit to three-ounce portions
Eat fish at least twice a week (Note: wild fish is better than farm raised)
Drink plenty of water each day (General Recommendation: ½ your body weight (using pounds) in ounces)
Optional: drink red wine in moderation (this means no more than one (5-ounce) glass a day for women, two glasses per day for men)
Replace a side of chips with a piece of fruit or vegetables
Use hummus for dipping instead of cream cheese or ranch dressing
Get plenty of exercise
Limit high-fat dairy by switching to skim or 1% milk from 2% or whole
Choose whole grains instead of refined breads and pastas
To further understand the science behind our program please visit: http://www.healthylivingdallas.com/science-behind-our-program/.
References:
http://www.metagenics.com/faqs/what-is-a-mediterranean-style-low-glycemic-load-diet
http://www.nejm.org/doi/full/10.1056/NEJMoa1200303?viewType=Print&viewClass=Print&activeTab=comments&page=3&