Healthier Coffee? Order it Here!
Learn more about Ganoderma lucidum below.

Coffee: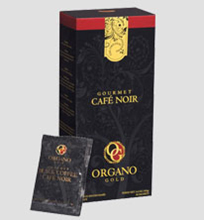 Gourmet Black Coffee
Robust, smooth flavor, enhanced with rich Ganoderma lucidum.
30 sachets/box OR 12 brewing cups(Brewing cups recommended!)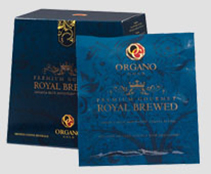 Royal Brewed BrewKup LIMITED EDITION

Harvested only once a year, Jamaica Blue Mountain coffee is a highly sought after and a rare brew. Now combined with organic Ganoderma spore powder to produce the smooth Limited Edition Royal Brewed.
12 brewing cups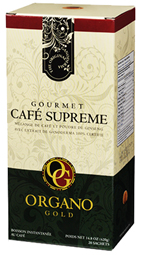 Gourmet Café Supreme
Light, creamy and smooth gourmet coffee enhanced with Genogerma Lucidum plus Panax Ginseng.
20 sachets/box

Premium Gourmet King of Coffee
Premium ORGANIC coffee with added bonus of pure organic Genoderma lucidum spores. Bold and flavorful.
25 sachets/box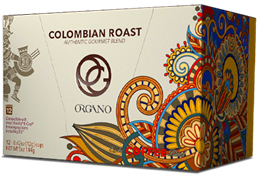 Columbian Roast
Rich, bold, delicious, and 100% Columbian Roast.
12 brewing cups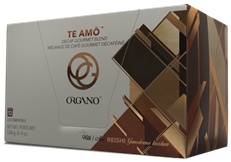 TeAmo
DECAF gourmet blend. Coffee taste without the caffeine.
12 brewing cups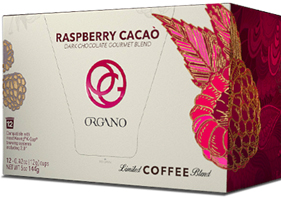 Raspberry Cacao
A coffee with the flavor of rich chocolate gently kissed with succulent red raspberries.
12 brewing cups
Teas: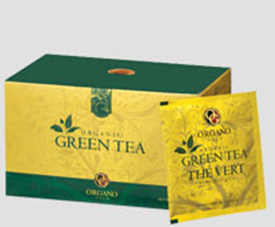 Organic Green Tea
Flavorful tea which combines organic green tea leaves which are packed with antioxidants with organic Genoderma Lucidum.
25 satchets/box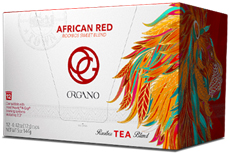 African Red Tea
Caffeine Free! Bursting with a blend of sweet and nutty flavors without the caffeine.
12 brewing cups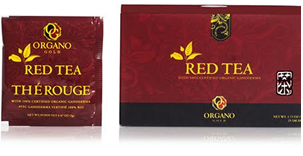 Red Tea
A revitalizing blend of organic red tea leaves with Ganoderma lucidum. Refreshing and uplifting!
25 satchets/box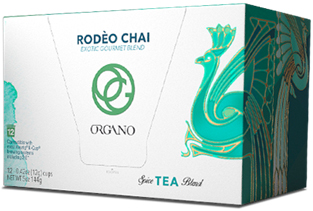 Rodeo Chai
Gourmet spiced tea blend.
12 brewing cups

What is Ganoderma?
Ganoderma lucidum is a mushroom that is native to China and other Asian countries. This herb has been used as a medicinal mushroom for more than 2,000 years with earliest writings of its medicinal properties in a Chinese book written sometime between 25-220 A.D. The major bioactive compounds of Ganoderma lucidum are thought to be terpenoids (triterpenes), nucleotides, glycoproteins, and peptidoglycans.
Many research studies have been done in the animal and in-vitro (test tube) models that indicated Ganoderma has potential therapeutic applications for limiting cancer growth, modulating the immune system, viral and bacterial infections, diabetes mellitus, and liver/gastric injury.
Wachtel-Galor, S., Yuen, J., Buswell, J., & Benzie, I.F. (2011). Ganoderma lucidum (lingzhi or Reishi): A Medicinal Mushroom. Herbal Medicine: Biomolecular and Clinical Aspects. 2nd Edition. Boca Raton (FL): CRC Press.
Do we recommend Ganoderma to be taken in supplemental form?
At Healthy Living Dallas we're extremely picky with what products we recommend to our patients to take in the form of supplements since supplements are not regulated in the United States. Various tested commercially available Ganoderma products had a range of triterpenes that ranged from undetectable to 7.8%. Due to variation in mushroom varieties along with processing and manufacturing loss and the lack of substantial human studies indicating benefit of ganoderma when taken as a supplement, we are not recommending it at this time for our patients.
So why the coffee then? Here's our thought. If we've recommended OrganoGold to you and you're one of our patients, it's because you're already drinking coffee. So why not switch it to a coffee that is the same cost (or cheaper!) but that might have added health benefits?
Here are our recommended OrganoGold Products. All can be ordered through this link. Not all OrganoGold products line up with our dietary recommendations (many have cream and sugar!) so to make the healthiest selections stick with the options on this list.