Our Clinical Director
Stephanie Olivares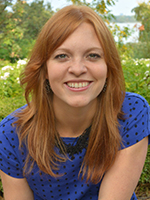 Stephanie Olivares
Hello everybody! My name is Stephanie Olivares and here's my story (or at the least the part related to work!):
I began my career in nutrition as a pathway to medical school believing that nutrition is the perfect adjust therapy to modern medicine. Two years into my undergraduate program my mother-in-law and my father were both diagnosed with cancer within 6 months of each other. Both diagnoses were accompanied by very restrictive nutrition recommendations. As I watched my family try to adjust to their diagnosis, trying to understand what it meant, the treatment options and prognosis while also trying to adjust their lifestyles and diets to help fight for their lives, my passion began to change. I had the opportunity to see firsthand that trying to change your lifestyle to fight for your health is difficult for everyone involved- patient and caregivers alike. I knew I wanted to devote my life to helping make it easier for patients to actually implement what their doctors wanted them to be doing. I began to focus my classes in school to an area of study called disease-state nutrition.
I finished my undergraduate degree from Texas A&M University (whoop!) with a Bachelors of Science in Nutritional Science and then pursued a Master's of Science in Nutrition from Texas Women's University.
After graduating I spent over a year working with the families of children on the Autistic spectrum understand how their different development affected their digestive systems and their nutritional status. While the science was fascinating and seeing the transformation in the children was fulfilling, I began to understand that the parent's health was core in making our children healthier. I transitioned into working with adults, helping to manage and minimize chronic diseases such as cardiovascular disease, metabolic syndrome, and hyper-inflammatory states. I began using First Line Therapy as a means to reduce chronic disease three years ago and became certified in 2013.
I live in Dallas with my wonderful husband, Jairo, and my golden retriever, Malak. I have a passion for science, woodworking, listening to book on tape, gardening, and of course, food!
My role at Healthy Living Dallas has changed from patient based care to directing clinical care and helping to shape our overall vision and resources at Healthy Living Dallas to meet your needs. I'm so proud to call Healthy Living Dallas my home and can't wait to meet you! If you have any ideas on how to improve our program or our services please let us know on the "Submit an Idea" button on our patient resources page.
Fun fact about Stephanie: Stephanie was born in the front seat of the car in a 7-11 parking lot, on St. Patrick's Day no less. We swear it's true.