Everday Salad Dressing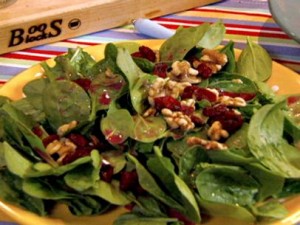 Serving Size: 1/8recipe (1 tablespoon)
Yields: 8
First Line Therapy Servings: (1.5fat)
Nutrition Breakdown: 75 calories, 4 grams carbohydrates, 7 grams fat
Recipe obtained from The Institute of Functional Medicine
Ingredients:
 1/4 cup vinegar of choice
 Juice of 1 lemon (≈ 3 tablespoons)
 1 clove garlic (or 1 teaspoon minced garlic)
 1/2 teaspoon ground cumin
 1 tablespoon raw honey
 1 teaspoon Dijon mustard
 ½ teaspoon sea salt
1/4 teaspoon pepper
1–2 tablespoons fresh minced parsley
 2–4 chopped green onions
1/4 cup extra-virgin olive oil
Directions
1. Add to a blender the vinegar, lemon juice, garlic, cumin, honey, mustard, sea salt and pepper, and blend.
2. Add the fresh chopped parsley and onion, and blend.
3. Add oil and blend possible, slowly stream in oil through an opening in the top of the blender).
4. Serve at room temperature.